January 9, 2010 at 5:37 pm
Following the official Nvidia Tegra 2 announcement, a whole number of different next-gen Tegra powered products were shown on the trade floor at CES. Rather than creating a post for every single one, we've summarised each below and attached any relevant videos. Most of these consisted of tablets, rather than smartbooks, but it gives you a good idea of what to expect over the coming year. Check out the Tegra 2 action after the jump. Read more
November 19, 2009 at 4:57 pm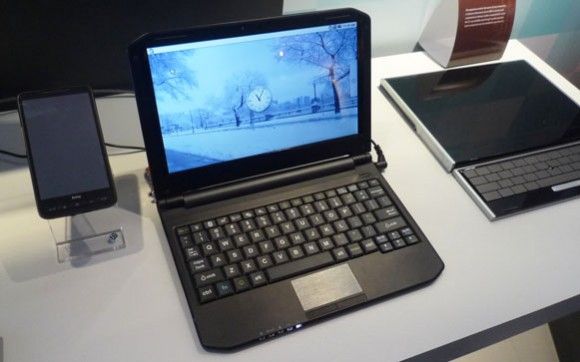 Qualcomm held a press event in London today, where it showed off different devices using its Snapdragon chipset. One of these was an Android smartbook from OEM Quanta. The fanless prototype is based on the Snapdragon chip and therefore very slimline.
The keyboard has been reconfigured to allow one-touch access to the homescreen, programs menu, applications and settings (such as 3G, Wi-Fi and Bluetooth). However, it did suffer from flex. Qualcomm confirmed that Lenovo's smartbook will be even thinner with curvier edges. Check out a hands-on video from Slashgear after the break. Read more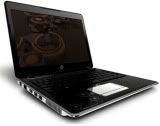 HP may be working on a couple of new netbook models to be released in the second half of the year according to Digitimes. A number of manufacturers have recently released larger sized netbook models, with display sizes of 11.6 or 12.1-inches. HP may be following suit, the report suggests that original design manufacturer, Quanta Computer, will start production of a new 11.6-inch device from August.
Quanta will also have a new 10.1-inch netbook model in production for Hewlett-Packard by the year-end too. This will be in addition to a revised 10.1-inch netbook to begin production by Inventec from the end of September.
There are no details on any of these netbooks, although looking at the timeline, a sensible guess suggests they will come with the Windows 7 operating system. They may even end up launching with the next-generation Atom 'Pineview' processor. The 11.6-inch model may also end up being a CULV-based ultra-thin device. As soon as we have clarification we'll let you know.
Some of you may have been expecting some more substantial news to come out of Intel's and Nokia's partnership, instead of the wishy-washy commitment we got instead. However, it looks like Nokia IS planning to enter the netbook and smartbook segment according to a Commercial Times report.
The report claims that Nokia has ordered netbooks from ODM Quanta Computer which will use an Intel Atom processor and go on sale as early as the third quarter this year. Even more interesting is that, it says it has also ordered smartbook devices from Compal Electronics that will be powered by an ARM-based Qualcomm Snapdragon processor. No muted release date was given for the smartbook. There's no other details for now, but we'll keep you posted with further developments.
Via Bloomberg.
March 9, 2009 at 12:05 pm
Vodafone may be about to launch its own branded netbooks in Europe manufactured by Quanta according to NetbookNews.de. Taiwan Mobile is set to do something similar with RoyalTek (a joint venture between Quanta Computer and Acer's mobile phone manufacturing subsidiary E-Ten). Taiwan Mobile, the nation's second-biggest telecom operator, is looking to boost data subscription in the face of falling voice usage. "We have been looking into the netbook market for a while. We decided to make our own line in light of satisfactory sales of Acer and Asustek's models," Taiwan Mobile's COO Cliff Lai said recently. It would be no surprise to see European mobile operators doing something similar to gain market share.