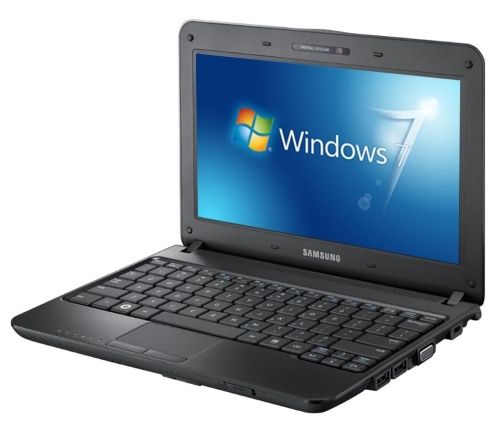 Every once in a while netbook manufacturers tweak existing models with slight changes in specs. Today we've got two such cases. First off, the Asus Eee PC 1008P-KR M is similar to the other Karim Rashid model but comes with lower specs along with a lower price tag. This particular model comes with 1GB RAM, 250GB HDD and Windows 7 Starter and costs $439.08
at Amazon.com.
Samsung has also announced the NB30 Pro. This rugged netbook is targeted to business professionals, hence the inclusion of Windows 7 Professional and an extra 1GB of RAM (2GB total). Other features remain the same and you still get the rugged design including HDD protection, carry handle and spill-resistant keyboard.
Update: Another one for the list. The Dell Mini 11z has been updated to include dedicated left/right mouse buttons, rather than the integrated solution it used before. Click here for more info.
April 15, 2010 at 11:08 am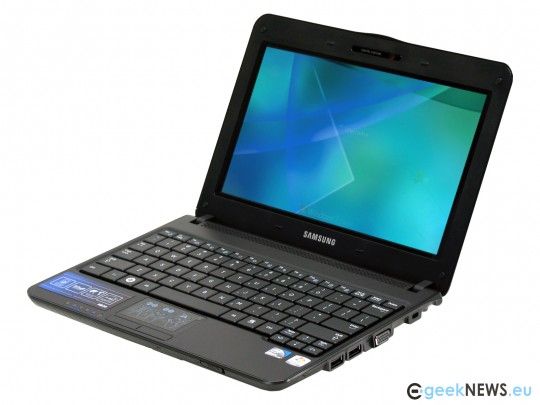 The Samsung NB30 Touch was officially launched in Italy yesterday. It is similar in most respects to the rugged NB30 netbook but comes with a 10-inch touchscreen display. GeekNews have reviewed a pre-production NB30 Touch already and liked what they saw.
It's nice to see the netbook sport a matte display, that should hopefully make fingerprint marks less of an issue compared to a glossy touchscreen. It's also worth noting that it comes with a multitouch capacitive display, something we weren't sure of on its official announcement. Performance from the 1.66GHz N450 Atom processor was fine along with the response of the screen. Read more
April 14, 2010 at 8:22 am
Rumours surfaced a while back over a touchscreen enabled version of the rugged Samsung NB30 netbook. Well it looks like this model has seen its official launch in Italy. The Samsung NB30 Touch (NB30-JT01IT) is the same in all other respects compared to the original NB30 and costs €399.
The NB30 Touch only comes with Windows 7 Starter, so you won't benefit from the full touch experience you get with W7HP. The type of touchscreen (resistive/capacitive) is also not mentioned, although I expect it's the former. Other features remain including its rubberised chassis, hard-disk protection and an anti-spill keyboard. Click through for the specs. Read more
February 22, 2010 at 2:53 pm
One of Samsung's four 10-inch Pine Trail netbooks, the NB30 is now shipping in the UK. A number of retailers have the netbook in stock and there appears to be two SKUs. The first comes with Windows XP and a 160GB HDD, whilst the more expensive version has Windows 7 Starter and a 250GB HDD.
MicroWarehouse is listing the XP model for £247.56 and the Windows 7 Starter model for £296.95. Misco also has the W7S model but for a more expensive £317.24. The rugged Samsung NB30 has typical Pine Trail specs, armed with a 1.66GHz N450 Atom, 1GB RAM and an 11-hour battery life. However, it also comes with water tight seals, a HDD freefall sensor and a scratch resistant shell.
Via Sammy Netbook.
February 11, 2010 at 5:54 pm
The Samsung NB30 netbook is certainly unique amongst the company's four Pine Trail netbooks. It has a rubberised lid and deck and water-tight seal to prevent liquid damage. It also has a HDD freefall protection sensor, matte display and 11-hour battery life.
NetbookNews has unboxed the NB30, where it was felt to be similar to the Samsung N150 in the looks department. Check out the video after the jump. Read more
January 9, 2010 at 6:00 pm
Samsung released four new Intel Pine Trail netbooks at CES and it's the NB30 that has been designed to take a knock or two. Apart from its 11-hour battery life, it comes with a water-tight seal to prevent liquid damage and it also has a HDD freefall protection sensor.
It's not only the internals that are designed with durability in mind, the NB30 also has a rubberised lid and deck. Apart from this, you'll get a 1.66GHz N450 Atom, 1GB RAM and 160GB HDD powering the 10.1-inch (1024 x 600) matte display. Check out some video impressions from Laptop Mag after the break. Read more
January 4, 2010 at 8:34 am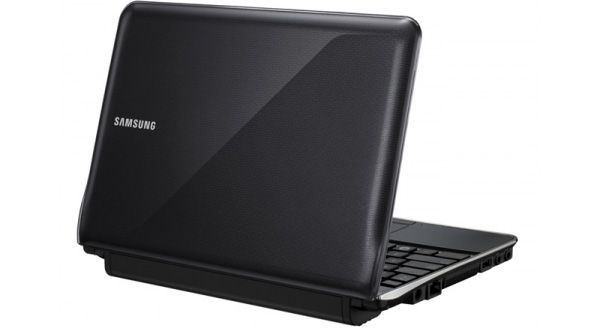 Samsung has officially confirmed its Intel Pine Trail netbook line-up. It will launch four new netbooks under the model names N210, N220, N150 and NB30. Whilst detailed specifications and pricing is still not available, Samsung says that all four models will be available across all territories in early January.
The netbooks will feature a 10.1-inch LED anti-reflective display powered by a 1.66GHz N450 Pineview Atom processor. The designs of the new netbooks don't look radically different from what we're accustomed to. They all sport a scratch-resistant lid and webcam. Read more
December 22, 2009 at 12:01 am
In all my time writing for Netbook Choice I have never experienced the amount of new netbook announcements in one day as I've seen today. Hopefully, this is the last (for today at least!) What we have here is the Samsung NB30 netbook that was spotted at retailer Neobits.
From what I can tell this 1.66GHz N450 Pineview Atom netbook seems almost identical to the 10.1-inch Samsung N150 that we posted on earlier. The spec-list, dimensions and weight appear to be identical bar the 6.5 hour battery life (the N150 has a quoted 7 hour life). Either the specs are wrong for one of them or one of these models may be aesthetically different (much like the Samsung N310). There are no details on availability but I suspect we'll see this appear in early January. Click through for the specs. Read more