SmarTone Vodafone, a Hong-based telecoms operator, is launching a new 10-inch netbook to its customers branded 'Vitesse'. The netbook will be free for those who sign up to a 24-month data plan. The Vitesse appears to be a rebranded Onkyo Sotec C204 and has all of the same specifications.
The 10.1-inch (1024 x 600) display is powered by a 1.6GHz N270 Atom PCU, 1GB RAM and a 16GB SSD. Apart from a 3G module, it also comes with Wi-Fi (b/g) and a 3-cell (1800mAh) battery. The Vitesse weighs 1kg (2.15lbs) and measures just 0.9-inches in thickness.
Via UMPC Fever [via Portable Monkey].
If you were wondering whether WiMAX would ever really kick-off, a number of WiMAX-enabled netbooks from different manufacturers have been announced this morning. First off, is the Samsung NC10 WiMAX (NC10-12PWBK). It doesn't come cheap, however, at $519.99 and is available to purchase now in the US. Other than the WiMAX module, the specs are exactly the same. The vanilla NC10, which costs $380, comes with a 10.2-inch (1024 x 600) display, 1.6GHz N270 Atom CPU, 1GB RAM, 160GB HDD, Wi-Fi (b/g), Bluetooth 2.0, a 1.3MP webcam and a 6-cell battery.
Intel along with UQ Communications is promoting the widespread deployment of WiMAX Services in Japan. UQ is committed to cover 90 percent of Japan with its WiMAX service by 2012 and sees the official UQ WiMAX launch on 1st July. As a result of this, several WiMAX-enabled netbooks and notebooks have been announced in Japan. Read more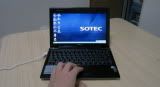 Onkyo only very recently announced its super-slim 10.2-inch C204 netbook, weighing just 960g and coming at 23mm thick. The netbook hit Japan retail a few days ago and Portable Monkey has already gone hands-on.
The specifications are pretty normal, although you will find a 32GB SSD under the hood. The Sotec C204 comes with a 10.1-inch (1024 x 600) Led backlit display and is powered by a 1.6GHz N270 Atom CPU & 945GSE chipset plus 1GB (max) RAM. Other features include wireless draft-N, three USB ports and a 0.3MP webcam. The touchpad supports multi-touch gestures and the 1800mAh battery is expected to last 5 hours.
Initial impressions appear to be positive, feeling lighter and slimmer than the luxurious Asus Eee PC S101. However, despite the average specs, the C204 is as loud as the 8.9-inch Acer Aspire One. Unfortunately, there is also no SSD-access panel on the bottom of the netbook and VGA is taken care of by a mini USB adaptor. Check out some video impressions after the break. Read more
Onkyo has today announced the Sotec C204 netbook series. One of the Sotec C204's main highlights is its impossibly thin chassis, measuring just 23mm at its maximum height. It also only weighs 960g and even if you include the power supply, it still only comes to 1.1kg.
The specifications are pretty normal, although you will find a 32GB SSD under the hood. The Sotec C204 comes with a 10.1-inch (1024 x 600) Led backlit display and is powered by a 1.6GHz N270 Atom CPU & 945GSE chipset plus 1GB (max) RAM. Other features include wireless draft-N, three USB ports and a 0.3MP webcam. The touchpad supports multi-touch gestures and the 1800mAh battery is expected to last 5 hours. Read more