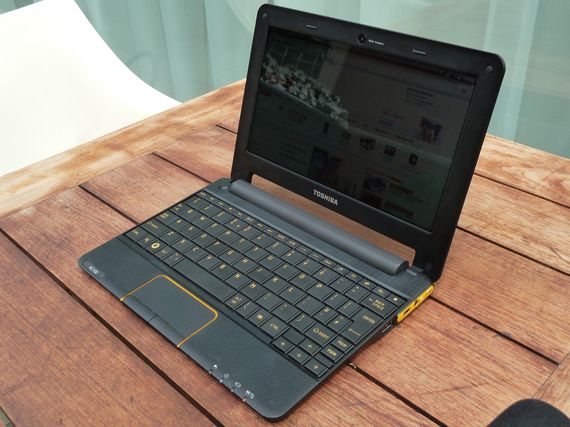 Toshiba has announced the AC100 10.1-inch Android 2.1 netbook/smartbook powered by the 1GHz Nvidia Tegra 2 (250) chipset. The AC100 smartbook offers a super slim profile, 512MB RAM, 8GB of NAND flash, a start-up time of "less than a second" and a battery runtime of 8 hours (or seven days of standby under mixed use). It looks like a traditional netbook but is slimmer and comes in a striking black and orange design (well we like it) along with a full sized-keyboard. It weighs just 870g and measures 14mm at its thinnest point.
Toshiba have made slight tweaks to Android 2.1 to make it more suited as a netbook. You'll get the usual homescreens that can be pre-configured and a number of apps will be pre-installed including Documents to Go for viewing and editing Microsoft Office files, a POP3 email client and a Toshiba Media Player. Read more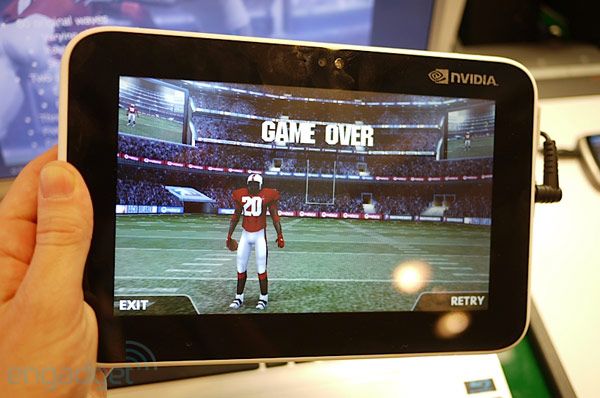 Nvidia has been showing off a Foxconn-manufactured 8.9-inch Tegra 2 tablet prototype running Android 2.1. Nvidia weren't revealing too much about the device but it is believed to have 1GB RAM, two USB ports, a front-facing camera and a 8.9-inch WSVGA screen. This model was just a reference design and a Nvidia spokesperson said that thinner and lighter designs are currently behind closed doors.
The tablet wasn't spotted booting into Android, but a 3D game was being demonstrated, most likely to show off Tegra 2's gaming prowess. A couple of sites including Engadget and NetbookNews managed to go hands-on with the device and we've attached some video hands-on after the break. Read more
April 6, 2010 at 12:50 pm
ICD has revealed their latest tablet dubbed Gemini that is one of the most fully featured yet seen. It will be armed with the 1GHz Nvidia Tegra 2 chipset, Android OS and comes with an 11.2-inch (1366 x 768) mutlitouch panel (both resistive and capacitive supported).
Two cameras are included in the package (2MP on the front and 5MP autofocus on the back). Additionally, it has a 5-axis accelerometer, GPS, FM radio, 4GB of Flash storage and a 32GB-supporting SD card slot.
Other features include HDMI, micro USB, 3.5mm headphone socket, integrated 3G, Wi-Fi (b/g/n) and Bluetooth 2.1. Pricing and availability remain a mystery for now. Check out some more pictures and a comparison chart after the cut. Read more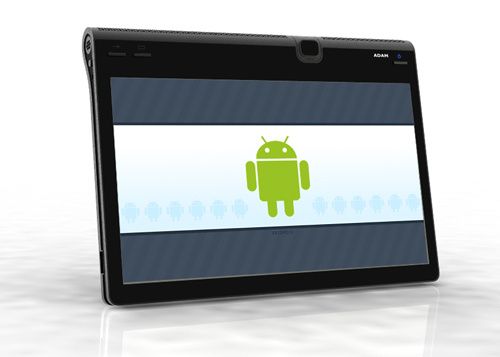 The Nvidia Tegra 2 chipset that was heavily shown off at the Consumer Electronics Show in January, mostly in numerous tablet devices, is suffering "some serious issues" relating to stability according to Slashgear. This is causing a delay in the production pipeline for many companies looking to incorporate the chip into their products.
Devices that were expected to hit the market in June 2010 have now been delayed to August at the earliest. This includes projects such as the much anticipated Notion Ink (delayed to Q4 2010) and Compal (delayed to mid-September) tablets. This can only be good news for the Apple iPad that will have the market to itself for even longer.
February 10, 2010 at 6:21 pm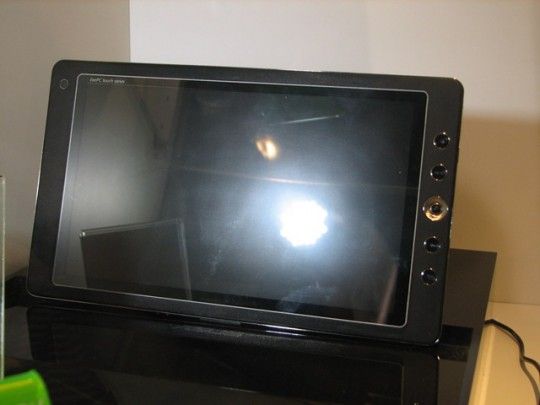 Asus Chairman Jonney Shih has said that the company is prepping a "killer product" for launch in June, probably during the Computex show in Taiwan. Whilst he didn't give any further hints, the most likely reference is to its tablet device (dubbed Eee Pad) that is will sport the Nvidia Tegra 2 chipset.
The Eee Pad was first spotted at CES 2010, although no specs were detailed. It was simply referred to as the "Asus Tablet Concept" along with a placeholder saying that it is powered by a Nvidia Tegra chip. The news came as Asus announced it will be spinning off its Pegatron manufacturing arm. The device is said to be manufactured by Pegatron and be launched at a sub-$500 price point. If true, Apple iPad may have some stiff competition in the second half of this year.
Via Slashgear.
January 29, 2010 at 9:30 am
MSI is planning on launching its 10-inch Tegra tablet, first shown off at CES, later this year for $500 according to Digitimes. It should be armed with Tegra's Cortex A9 chipset and Android operating system.
This will pit it against the Apple iPad, with a similar price point, display and computing power. However the MSI tablet should benefit from multitasking and it is reported to be "thin and light." Tegra should also be able to handle 1080p video as opposed to 720p for the Apple iPad. There are still question marks over a full spec-list but we'll keep you posted.
January 9, 2010 at 5:37 pm
Following the official Nvidia Tegra 2 announcement, a whole number of different next-gen Tegra powered products were shown on the trade floor at CES. Rather than creating a post for every single one, we've summarised each below and attached any relevant videos. Most of these consisted of tablets, rather than smartbooks, but it gives you a good idea of what to expect over the coming year. Check out the Tegra 2 action after the jump. Read more
January 7, 2010 at 7:13 pm
Nvidia has formally announced the 40nm Tegra 2 chipset. The new chip combines a dual-core ARM Cortex A9 processor (running up to 1GHz speeds) with Nvidia graphics to create a platform expected to be used in a number of HD tablets, smartbooks and smartphones launching this year.
As you would expect, Tegra 2 can stream 1080p video, has HDMI-out and benefits from Flash Player 10.1 hardware acceleration. It does all this with an all day battery life. According to Nvidia, Tegra can deliver over 16 hours of HD video (140 hours of music) on a single charge – astonishing if true. Read more
December 16, 2009 at 4:19 pm
Nvidia's Tegra chipset is similar to ION but differs in that it marries an ARM-based processor with an Nvidia GeForce GPU whereas ION pairs an Intel Atom CPU instead. The benefits of the Tegra SoC (system-on-chip) includes the ability to handle 1080p video, HD Flash, GPS, Wi-Fi, 3G and a huge battery life. All of this while being very energy efficient.
However, Tegra hasn't taken off as well as Nvidia would have hoped. It is used in the Zune HD but not too many other high profile products. In response to this, Nvidia is set to announce the second-generation Tegra chipset at CES in January. Tegra 2 is believed to be twice as powerful as the original and run on a 40nm dual-core ARM processor. A number of new devices sporting the Tegra 2 chipset are expected to appear at CES 2010. Read more
November 5, 2009 at 5:49 pm
Details of the second generation of Nvidia's Tegra platform are starting to emerge. Fudzilla is reporting that the new chip will arrive in 2010 and will use the dual-core ARM 9 processor. This will give it twice the computational and graphics power of the current Tegra chip according to "high ranking industry sources".
Nvidia CEO, Jen-Hsun Huang, wants Tegra to account for over half of the company's revenues in the next few years. Whilst it's presence is likely to end up in high-end smartphones, they will also feature in smartbooks too.