October 20, 2009 at 4:36 pm

Gigabyte is the latest company to announce its Windows 7 refreshes for its current range of netbooks. Both the 10.1-inch T1028X TouchNote convertible netbook and M1022X Booktop will be launched with Windows 7 Starter Edition.
The T1028X TouchNote has a 10.1-inch (1366 x 768) touchscreen display and is powered by a 1.66GHz N280 Atom CPU, 1GB RAM, 160GB HDD, 1.3MP webcam and 6-cell (7650mAh) battery. The specifications remain unchanged apart from the OS.
The M1022X Booktop does have revised hardware. It also now has a HD display (10.1-inch display with resolution of 1366 x 768 pixels). It also comes with a high capacity 6-cell (7800mAH) battery that should last for 8 hours.
The Windows 7 T1028X will ship for 72,800 Yen (£488, $800, €537) and the M1022X will cost 66,800 Yen (£447, $735, €492). Both models should hit other regions soon enough.
Via Netbooked.
Two Gigabyte netbooks have now seen their release in the United States. The Gigabyte TouchNote T1028 and Booktop M1022 have both gone on sale for $599.00
and $449.00
respectively. This leaves only the Gigabyte ThinNote S1024 to make its way at some point.
The TouchNote T1028 is a convertible netbook similar to the Asus Eee PC T91, so that it can be used in a tablet mode. However, the T1028 has a 10-inch screen compared to the 8.9-inch screen found in the Eee PC T91.
The Gigabyte M1022 has a docking station that can be connected to monitor/keyboard/mouse and be used as a desktop system when at home. It also has a 6-cell battery that should be good for 8 hours of battery life. Both models are powered by a 1.66GHz N280 Atom CPU and come with 1GB RAM and a 160GB HDD. So far there is no sight of these Gigabyte netbooks in the UK.
Via Portable Monkey.
April 22, 2009 at 12:34 pm

We have learned from a very reliable source that Gigabyte is set to launch a couple of new netbooks this June. The 10-inch Gigabyte P1080 and Gigabyte P1082 appear to have the exact same specifications from what I can tell. The only difference is that the P1080 will be a white model, whilst the P1082 will be in black.
These new models will sit at the lower end of its netbook range, coming in cheaper than the TouchNote T1028, Booktop M1022 and ThinNote S1024. Given this value positioning, the specifications do nothing to amaze. Read more
April 11, 2009 at 11:46 am
A few days ago, UMPC Portal unboxed the Gigabyte's 10-inch convertible tablet, the T1028M. They have now posted their thoughts following a couple of days of testing and overall impressions seem to be positive. The T1028M was found to come with some excellent features including a convertible screen, ExpressCard/34, easy access to HDD/RAM panels, wireless draft 'n' and a pre-wired 3G antenna.
The device seems to sit in a unique place with few major competitors. Asus are planning on introducing two models in the near future, the 8.9-inch T91 and the 10-inch T101, but apart from that, Gigabyte has the 10-inch market to themselves. The T1028M also boasts significant improvements over Gigabyte's first convertible tablet, the 8.9-inch M912, which include better battery life, cooling, noise levels and stronger hinges.
The hard-disk was one of the fastest they had seen, giving a CrystalMark 2003 performance test of over 28,000. The reception on the 3G antenna was also excellent and even outperformed his mobile phone. The main points of criticism came from a glossy screen that made it difficult to use outdoors and battery life. The battery lasted between 2.5 to 4 hours depending on different levels of brightness and 3G connectivity, which is respectable but nothing outstanding. We look forward to seeing how the T1028M fares against Asus' upcoming offerings.
Gigabyte's upcoming 10-inch convertible tablet netbook, the T1028 TouchNote, has been unboxed courtesy of UMPC Portal. They videoed the whole event and gave their first impressions. The T1028M supplied to them already came pre-installed with an in-built 3G modem. Overall the unit fared favourably to Gigabyte's previous net tablet, the 8.9-inch M912. It has a larger keyboard and touchpad and despite having a bigger screen, didn't feel much heavier either. They felt noise and heat was also an improvement over the M912 despite some fan noise remaining.
The 1024 x 600 display did not appear to be as sharp as expected, probably due to the touch layer on the screen muting the screen somewhat. The screen felt responsive and supported gestures. Battery life wasn't brilliant though, predicted to last under three hours. The T1028M comes with a 1.6GHz Atom CPU, 1GB RAM and 160GB hard-disk drive.
We know that a number of different T1028 models are planned with a 'P' version coming with a higher-resolution (1366 x 768) screen and 1.66GHz N280 CPU. The T1028M is expected to launch at the end of this month and it is interesting to see that the unit they played with had final retail packaging. Check out the video after the break. Read more
March 25, 2009 at 12:53 pm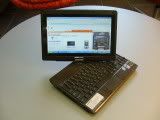 Import specialist, Mobilx, has confirmed that Gigabyte's upcoming range of netbooks will start to hit retail channels from 30 April. The only models that have confirmed dates so far are the T1028M TouchNote convertible tablet and M1022 Booktop.
The TouchNote series will come in four different variants (M, G, P & X). All four have a 10.1-inch LED backlit display but the M/G models have 1024 x 600 resolution whilst the X/P models will be the HD models, supporting a resolution of 1366 x768. The Booktop M1022 is a white netbook that comes with its own docking station. The docking design allows you to connect a keyboard and monitor so that you can use it as a desktop at home and then take it out of its dock when on the move. The ThinNote S1024 ('S' standing for slim) is just 2cm thick and weighs only 890g.
Mobilx already has a sample unit of the T1028M TouchNote in their possession and have upgraded it with a 3G-module as the antenna is pre-wired. The TouchNote also has a pre-enabled SIM card slot. The Gigabyte T1028M TouchNote has a pre-order price of €477.63 whilst the M1022 Booktop has a pre-order price of €440.34. The S1024 Thin Note is listed at the same price as the Booktop although has no date listed yet. All of the above prices exclude VAT and 3G options cost extra. Check out the full specifications for Gigabyte's range after the break. Read more
Following on from Gigabyte's reveal of its TouchNote M1028 range of convertible tablets at CeBIT, Gigabyte also unveiled the ThinNote M1024. As the name suggests this netbook is targeted to those that value a thin and sleek form-factor. Gigabyte seem to have succeeded on this front delivering a netbook that weighs just 890 grams (just under two pounds). However, it seems that Asus may have won on the styling front, having announced the super-slim Seashell 1008HA yesterday. Obviously it all comes down to price between the two and as of yet we still do now know exactly which regions Gigabyte plan to market to.
The ThinNote M1024 sports a 10.1-inch (1024 x 600) LED backlit screen and is powered by a 1.6GHz Intel Atom N270 CPU and Intel 945GSE chipset. Given the size, the M1024 is limited to 1GB RAM and a 60GB/80GB hard-disk drive. It also supports Wifi and Blutooth 2.1 and has optional 3.5G modem support. It comes with two USB ports, a memory card slot and a six-cell 3,400mAh battery as standard. As with the M1028, there is no word on pricing or indeed which regions the M1024 will be available in. We'll update with further information as we have it.
UPDATED (17.01): We've included a video after the jump, from the guys over at jkkmobile who went hands-on with the M1024.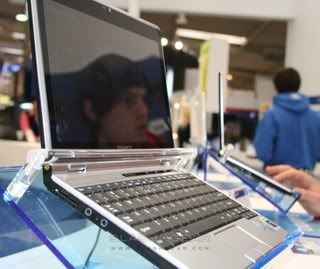 Via Slashgear