January 6, 2010 at 10:21 pm
We first caught eyes on Viliv's S10 Blade back in September. The S10 Blade is a 10.1-inch convertible netbook that comes with a 1366 x 768 display and is powered by a Silverthorne Intel processor (either a 1.6GHz Z530 or 2.0GHz Z550). It comes with various SSD storage options, 1GB RAM and Windows 7 Home Premium.
Battery life is pretty good, quoted at 10 hours or 7 hours with movie playback. It has now been officially announced at CES with a full spec sheet, but pricing details are still missing. We'll bring you more details as we have them. Check out the spec-sheet after the jump.
Update: We've also attached a hands-on video from JKKMobile and Laptop Mag. Read more
September 24, 2009 at 11:36 am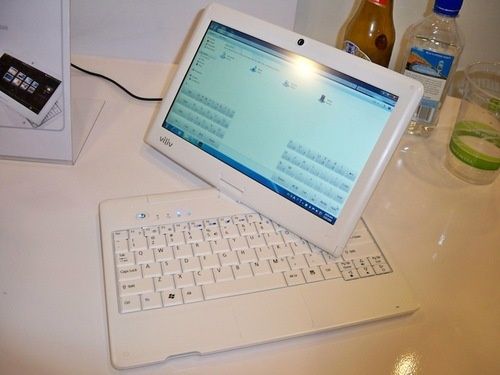 Viliv, the Korean manufacturer normally known for its MIDs, is showing off a new netbook at IDF (Intel Developer Forum) 2009. The S10 Blade is a convertible 10-inch touchscreen netbook that will ship with a 10-hour battery and launch with Windows 7 Home Premium.
Impressively, the Viliv S10 has a high-resolution (1366 x 768) display and the high-capacity battery will sit flush with the chassis. There's no multi-touch on this model though as it will ship with a resistive screen. It will be powered by either a 1.33GHz or forthcoming 2.0GHz processor, 1GB RAM and either a 32 or 64GB SSD. The SanDisk SSDs won't be performance models, running with 70MBps read rates.
It will also have optional 3G. The Viliv S10 is due out by the end of this year and available in a number of configurations starting from $499. We've attached a number of hands-on videos of the device after the break. Read more