March 10, 2009 at 3:09 pm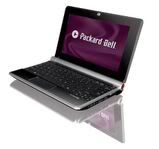 Packard Bell has ditched its DOT netbook just months after it was first announced. The model was announced last September and was due to hit retail in January 2009 at a price-point of £299 although it never arrived. The reasons why the model has been terminated are unknown, however a new model is set to take its place. "The DOT is going end of life and will be replaced by new model," said a spokesman for Packard Bell.
The DOT netbook was based on the Acer Aspire One, sporting a 1024 x 600 resolution screen and powered by a 1.6GHz Intel Atom N270 CPU and 1GB RAM. It was due to have a 160GB HDD, three USB ports, webcam and optional 3G modem. At this point it is not clear how the specs of the newer model will differ to the DOT. All the spokesman said was that there will be "some changes made to the brand".
Via Pocket-Lint.