March 13, 2009 at 12:57 pm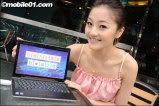 Taiwan Mobile is shortly set to release the self-branded W101 netbook to help boost data subscription in light of falling voice usage. Mobile01 managed to get a closer look at the netbook, which is manufactured by Royaltek, and impressions are definitely favourable. One would expect that a self-branded netbook may not sit on the same ground as the more established players. However it looks as though it will be able to carry its own. Whilst many have not heard of Royaltek, it is a joint venture between two industry heavyweights – Quanta and an Acer subsidiary called E-Ten.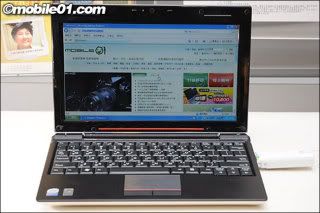 The unit that mobile01 managed to get hold of came with a quite distinctive white casing whilst the internals (including keyboard) is all black. The netbook is definitely one of the slimmest on the market at 2.08cm thick and weighing just 935g. The Taiwan Mobile W101 sports a 10.1-inch (1021 x 576) display and is powered by a 1.6Ghz Intel Atom N270 CPU & 945GSE chipset. However, it looks like it will be let down with just 512MB RAM and storage of 8GB (SSD). In terms of connections, it is fairly standard with two USB ports, one SDHC card reader along with a port theft protection device. The W101 will also have a 0.3MP webcam.
On the negative side, the machine has no access to RAM or SSD, although optional 3G-modem support is present. Also, it only comes with a 3-cell 1800 mAh battery which seems quite poor compared to its peers. Especially when some netbooks are now managing 13 hours on a single charge!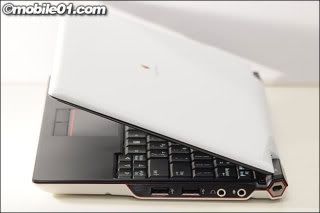 There are rumours that Quanta will also be manufacturing a Vodafone-branded netbook for release in Europe. Judging by these impressions, we can imagine it being quite a success, however it will need to address the battery issues first. One thing's for sure, it does seem that it will be able to compete with the more established players and could even become a long-term threat.