March 13, 2009 at 11:39 am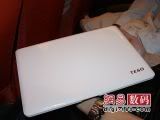 Chinese manufacturer TESO, has launched a near-final build of what looks to be a clone of Apple's Macbook Air. Specifications seem to be thin on the ground right now, however this 12.1-inch netbook is likely to be powered by a N270 Intel Atom CPU and come with a 250GB hard-disk drive. At 1.4kg it's not too heavy either, considering the larger screen. No mention of OS or pricing has been revealed.
Differences over the MBA are a 12-inch screen as opposed to the 13-inch MBA screen. The TESO also has two USB 2.0 ports compared to just one for MBA. The TESO also has HDMI and a rather large touchpad and comes with surprisingly better air vents at the bottom compared to the original.
The design does seem to be slightly compromised as a cheap-looking black keyboard takes place amid the white design. The battery cover is also a different colour to the rest of the netbook. It just doesn't have the same premium look that the MBA commands. Plenty more pictures and details of the launch (in Chinese) here.