March 16, 2009 at 6:48 pm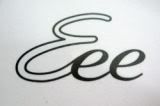 Asus will be trying to make its product line less confusing by offering fewer storage options for Eee PCs. Currently, Eee PC models are available in each country with a choice of hard-disk drive (HDD) or solid-state drives (SSD), the company will from August offer only one version per model in any given country.
"We plan to make the product line a lot clearer for consumers. Currently you have a lot of choice of SSD and hard disk, but we plan to find the one consumers want the most and make the choice easier," an Asus spokesperson said.
As a general rule, the "high-end" models are likely to come with SSDs and the more "mainstream" models with HDDs. The spokesperson stressed that Asus would still manufacture HDD and SSD options for each model, but would choose which version to sell in each market.
Via ZDNet.