March 17, 2009 at 2:07 pm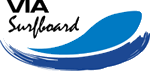 Following on from VIA's launch of its VX855 IGP chipset, it has today announced a new reference design main board for netbooks featuring full 1080p high definition video playback. The Surfboard C855 motherboard is intended for a new breed of HD netbooks and is based on a VIA C7-M processor running at 1.6GHz, the new VIA VX855 IGP chipset and advanced VIA multimedia and connectivity silicon. When the VX855 is partnered with the new board it is claimed that it can support hardware acceleration of most video standards including H.264, MPEG-2, MPEG-4 and VC-1.
"A key advantage of the VIA Surfboard C855 is the head start it affords mini-notebook system developers or those seeking to enter the market," said Richard Brown, Vice President of Marketing, VIA Technologies, Inc. "Not only is VIA in the unique position of being able to offer customers a complete, ready-to-build solution, but the new board's HD capabilities mean VIA-based mini-notebooks will provide a superior multi-media entertainment experience."
This ultramobile technology will support internal display resolutions of 1366 x 768 and or 1920 x 1440 for external monitors. We have reported how 10-inch panels with 1366 x 768 resolution are coming soon, what better way to get the most from the screen then to pair it with some capable hardware. VIA's all-in-one approach is certainly more streamlined than the Intel Atom/GN40 pairing, which doesn't support 1080p, and the cross-company NVIDIA Ion/Intel Atom combination. Video demo after the jump.