March 19, 2009 at 1:30 pm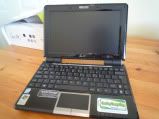 The Asus Eee PC 1000HE, successor to the best-selling 1000H, will not only come with a much improved keyboard but also a battery (rated at 8700 mAh) life of 9.5 hours per charge. It also has a chiclet keyboard like the new MacBook range.
A number of publications have unboxed the 1000HE over the last 24 hours. First up is Electric Pig who had just received the unit through the door and posted some initial pictures. Blogeee has a much more comprehensive range of photos, looking at every conceivable angle of the 1000HE. Lastly, Einfach-Eee.de has an unboxing video (in German) of the unit which we've included after the jump.
In other related news, Asus has announced that its Eee PC 100HE has achieved a record number of global pre-orders. The 1000HE is also ranked among the top three most wanted gadgets on Amazon according to the company. We'll hopefully have our review of the 1000HE in the coming weeks.