March 19, 2009 at 1:56 pm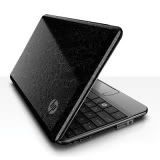 Hewlett Packard is to begin volume production of its next-generation of 10-inch netbooks in May or June according to Digitimes. The new netbooks will be manufactured by Inventec. Other information is scant at this time, including zero details on technical specifications.
What improvements would you like on the HP Mini 1000? A better battery in the box would be the first point for me, a 3-cell battery just doesn't cut it anymore, especially when you consider the likes of the Samsung NC10 comes with a 6-cell battery as standard. More news as we have it.