March 20, 2009 at 1:04 pm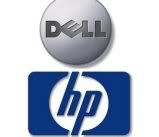 Dell and HP will start to release mini-notebooks based on the Intel CULV (Consumer Ultra Low Voltage) platform from the third quarter this year, according to Digitimes. Intel's new platform is said to be a direct competitor to the AMD Yukon platform with the industry expecting 10 million CULV notebooks to be shipped in 2009.
The CULV platform is aimed at the ultra portable notebook segment in the $699 to $899 range. However, the lines between netbook and notebook are being blurred further as the report states that Dell and HP plan to release models with screen sizes from 11-inches to 13-inches. This move is set to impact the market shares of Taiwanese manufacturers such as Asus, Acer and MSI.
New CULV CPUS will include the Core 2 Duo SU9600 with a 1.6GHz clock speed and the Core 2 Solo SU3500 will run at 1.4GHz. Judging by the names, the latter should be a single-core offering. These CPUs will complement the SU9400, SU9300, SU3300, and Celeron 723 models in the "consumer ultra low voltage" portion of Intel's notebook CPU line-up. Intel plans to pair the Celeron 723 CPU with its GN40 chipset, which is likely to be a popular choice among the premium netbook segment.