March 23, 2009 at 2:11 pm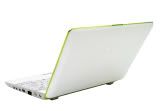 We have not heard anything about LGs upcoming X120 netbook since Mobile World Congress in February, however we now know that the X120 should start shipping in Asia by the end of this month. According to the official LG Korean site, the X120 will see its European launch in April, although specific countries have not been announced.
The LG X120 will cost 849,000 Korean Won ($610, €450, £420) when it is released in the region. Two models are expected to be released (X120-L76LK and X120-L76PK) although the press release is vague in what the differences between the two models are – possibly just colours? If the price translates over to the UK, it seems quite pricey, especially since the LG X110 can be bought for £230 right now.
The LG-X120 netbook is powered by an Intel Atom 1.6Ghz CPU and will sport a 10.1-inch (1024 x 576) LED backlit display and a 160GB hard-disk drive. The X120 will be reasonably portable weighing 1.26kg. It will also come with a 1.3MP webcam and 3G HSPA connection. It will come with a 3-cell battery which should last for 3.5 hours and a 6-cell battery will also be available offering 7 hours of battery life.
The X120 will also support it's own instant-on operating system dubbed 'Smart-On'. LG claims that it will load in just seven seconds and offer access to the most frequently used applications such as Firefox, MP3 player and a photo viewer.