March 24, 2009 at 6:09 pm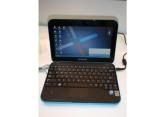 Despite only being officially announced yesterday, Samsung's N310 netbook has already been shown off to journalists at Samsung's European Forum in Vienna today. We revealed the full list of specifications yesterday and UK pricing (£399) as well as European pricing (€499). No new details were revealed today apart from the chance to go hands-on.
The design of the N310 has been one of the main talking points. It was designed by leading designer Naoto Fukasawa and if not anything else, Samsung is giving the market something different. So many netbooks released today all look the same. Personally I find the embossed Samsung logo in huge lettering a bit off-putting, however I'm sure many will be attracted for the same reason. The outer casing has a soft and textured rubber-like feel to it and actually feels quite nice in the hand. Four colours were shown off (orange, mint, blue and black), although it's unknown right now whether more colours will be available.
The chiclet-style keyboard has a very good size to it (93-percent keyboard size). Samsung describes the keyboard as a 'pebble' design, with good spacing between keys which should lead to less typing errors. Keyboard feedback felt a little unsatisfying, but despite this it felt quite comfortable.
The 10.1-inch (1024 x 600) LED backlit screen was a joy to look at, mainly due to the frameless design. It appears just as a sheet of glass across the whole surface. We can only imagine what a higher resolution would look like in the same design. Whilst not the lightest netbook around at 1.23kg, it still felt quite sturdy and felt that it would easily survive a fall.
If you were being cynical you could argue that if you strip away its love-it-or-hate-it design, then there's not much new here at all. However, that would be missing the point. Samsung has created something that looks different to any other netbook on the market right now. It is for that reason it can charge £399 when you can buy the NC10 for just £310 right now. Samsung is looking to protect its margins and by concentrating on the design aspect they are likely to do that handsomely.