March 25, 2009 at 11:06 pm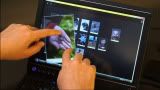 The Windows Touch Team has posted a lengthy post on the 'Engineering Windows 7' blog, giving a thorough overview of touch in Windows 7. It is well worth a read for those that are interested in the touch capabilities of Microsoft's new operating system. From a netbook point of view, Windows 7 could drive a surge in netbook sales although this is likely to depend on whether the hardware is up to scratch as well as mature software. I for one cannot wait for HD multitouch-panels to appear in netbooks/net tablets, but if the software isn't up to scratch it will be pointless.
"With Windows 7 we have enriched the Windows experience with touch, making touch a first-class way to interact with your PC alongside the mouse and keyboard. We focused on common activities and refined them thoughtfully with touch in mind. You will have the freedom of direct interaction, like being able to reach out and slowly scroll a web page then flick quickly to move through it. With new touch optimized applications from creative software developers you will be able to immerse yourself as you explore you photos, browse the globe, or go after bad guys in your favorite games."
The team also talk about the core gestures used in Windows 7 (Tap and Double-tap, Flicks, Zoom etc.) We have included a full list & description of these after the break along with a short video demonstrating these gestures in action.
The core gestures are:
Tap and Double-tap – Touch and release to click. This is the most basic touch action. Can also double-tap to open files and folders. Tolerances are tuned to be larger than with a mouse. This works everywhere.
Drag – Touch and slide your finger on screen. Like a dragging with a mouse, this moves icons around the desktop, moves windows, selects text (by dragging left or right), etc. This works everywhere.
Scroll – Drag up or down on the content (not the scrollbar!) of scrollable window to scroll. This may sound basic, but it is the most used (and most useful – it's a lot easier than targeting the scrollbar!) gesture in the beta according to our telemetry. You'll notice details that make this a more natural interaction: the inertia if you toss the page and the little bounce when the end of the page is reached. Scrolling is one of the most common activities on the web and in email, and the ability to drag and toss the page is a perfect match for the strengths of touch (simple quick drags on screen). Scrolling is available with one or more fingers. This works in most applications that use standard scrollbars.
Zoom – Pinch two fingers together or apart to zoom in or out on a document. This comes in handy when looking at photos or reading documents on a small laptop. This works in applications that support mouse wheel zooming.
Two-Finger Tap – tapping with two fingers simultaneously zooms in about the center of the gesture or restores to the default zoom – great for zooming in on hyperlinks. Applications need to add code to support this.
Rotate – Touch two spots on a digital photo and twist to rotate it just like a real photo. Applications need to add code to support this.
Flicks – Flick left or right to navigate back and forward in a browser and other apps. This works in most applications that support back and forward.
Press-and-hold – Hold your finger on screen for a moment and release after the animation to get a right-click. This works everywhere.
Or, press-and-tap with a second finger – to get right-click, just like you would click the right button on a mouse or trackpad. This works everywhere.