March 27, 2009 at 4:46 pm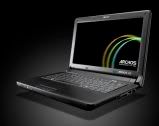 Archos is planning to release a number of 'internet media devices' powered by the Google Android operating system in the second half of this year. Archos hasn't confirmed exactly what form these internet media devices will take, however a UMPC is likely to be one of them.
"In the third and fourth quarter we will be launching internet media devices that will be based on Google's Android technology, " said Tony Limrick, MD of Archos Europe. "In terms of the forthcoming ultra-mobile PC, we are not releasing the final specifications, except we will be incorporating Google Android into one very smart piece of kit."
Further details are unknown at this point, however Limrick emphasised screen quality, size and ultra-portability as key factors. Whilst Archos is traditionally known for its personal media player (PMP) devices it launched its first netbook, the Archos 10, earlier this year. Whilst, the Archos 10 looks like most other netbooks on the market, may Archos also be planning a new netbook powered by Android? That certainly would set it apart from the rest.
Via Silicon Republic.