March 27, 2009 at 6:40 pm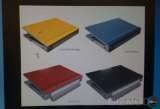 Dell is planning to launch a new range of 10-inch netbooks branded for the education market in May according to Gizmodo. The Dell Latitude 2100 'Welch' netbooks will be powered by a 1.6GHz Intel Atom CPU, support a maximum of 2GB RAM and weigh under 1.4kg (3lbs). They will come in four different colours and fitting in with the school theme, will have names to match. The names include 'School Bus Orange, 'Red Apple' and 'Blue Ribbon'.
Personally, they don't look too attractive and from the render, look reasonably chunky too. These new netbooks may have a touchscreen and will come with 3 and 6-cell battery options. Other features include WiFi (b/g/n), Bluetooth, SD/MMC slot and three USB ports. With a price-point under $600, I would think there are better options on the market. However, this is just a rumour so we'll wait for further information before criticising. Click through for a larger shot of the render.