March 27, 2009 at 9:30 pm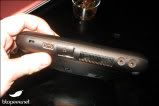 Blogeee managed to get some time hands-on with the Samsung N310 yesterday and posted a short video of its impressions. They played with the black version, which judging from the video seemed slightly susceptible to fingerprints. Overall they found the N310 very well finished and surprisingly light and compact. The netbook was one of the most popular products on the Samsung stand.
From watching the video, we still have reservations about the design. The case did seem to attract quite a few fingerprints and I'm still not sold on the huge SAMSUNG logo on the cover. However, it does seem to be solid with a comfortable keyboard and the frameless display certainly looks sexy. One has to decide whether these aesthetic improvements are enough to justify the premium over the Samsung NC10. The full specifications of the N310 can be found in our previous post here.
The actual case was found to be very reactive and soft to the touch. On the right hand side of the N310 lie two USB ports, a standard VGA port and the power socket. The left-hand side hosts the usual ports, a theft protection device, the third USB port, an Ethernet port (hidden behind a rubber cover), some ventilation holes and the usual audio sockets. The chiclet keyboard was found to be very comfortable and fast to use. Samsung have designed this with sufficient spacing between keys to reduce typing-errors.
On the bottom of the unit one can see the RAM access slot (upgradeable to a maximum of 2GB) although judging by the video it seems that the hard-disk drive cover is sealed which is unfortunate. The 4-cell battery also gets a hands on and is rated at 4000 mAh, which according to Samsung should give 5 hours of battery life.

Samsung N310 from Blogeee.net on Vimeo.