March 29, 2009 at 4:23 pm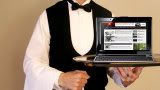 David Pogue's "Mr. Compromise" of the New York Times has finally taken a look at netbooks with a 'review ' of four different models. He asked Joanna Stern of Laptop Mag which ones to look at and came up with four 10-inch models. The Asus Eee PC 1000HE, HP Mini 1001, MSI Wind U120 and Samsung NC10.
Surprise, surprise he found that owning a netbook requires making compromises. Some of the issues with each netbook include mouse buttons on either side of the touchpad for the HP Mini 1001, the Samsung NC10 costs too much, the Asus is too heavy and the Wind doesn't have upgradeable memory. The video doesn't cover any new ground but is meant to be a bit of light relief, check it out after the break.