March 30, 2009 at 10:19 pm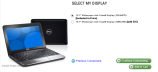 For those of you thinking about purchasing the 10.1-inch Dell Mini 10 netbook in the US, it is worth knowing that Dell are now offering the high resolution option on its site. Currently the Dell Mini 10 supports a resolution of 1024 x 576, however for a reasonable $35 upgrade fee, you can opt for a higher resolution (1366 x 768) display.
Whilst $35 is definitely good value, HP are rumoured to charge just $25 to upgrade to a similar resolution screen on the HP Mini 2140. With the high-res Mini 2140 due next week, it will be interesting to see how the two screens compare.
This option is only being offered in the US right now. The UK Dell site still only offers the 1024 x 576 option, however it can't be too long before they follow suit. Unfortunately there is still no word on the other Dell Mini 10 options including the 6-cell battery, TV Tuner, GPS and 2GB RAM.
Thanks Mircea!