March 30, 2009 at 6:03 pm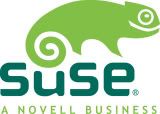 Novell has set up a dedicated research & development team to work on the development of Linux operating systems on netbooks. Novell Taiwan claims that the team will work in conjunction with Taiwanese netbook manufacturers to develop driver programs and design interfaces to support their hardware.
New netbook models featuring Novell's SUSE Linux operating systems are expected to be showcased at Computex Taipei in early June. The vendors that Novell is currently working with are the usual suspects, Acer, Asus, Micro-Star International (MSI) as well as other vendors. SUSE currently comes pre-installed on four netbooks. Lenovo's IdeaPad S10e, MSI Wind, First International Computer Inc.'s CW0A1 and the HP Mini 2140 netbook.
Whilst some may suspect that maybe some ARM-powered models with SUSE may be shown, Novell ruled this out. Markus Rex, senior vice president and general manager for open platform solutions at Novell, recently said: "There certainly is a lot of hype around ARM-based netbooks, [but] at the moment, we don't do anything on ARM-based devices."
Via Digitimes.