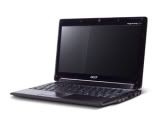 Following on from Acer's 10.1-inch Aspire One D250 netbook announced yesterday, another 10-inch from its stable has also been unveiled, the Aspire One 531. The Aspire One D250 appeared on both the Acer UK and Germany sites yesterday but was then removed later in the day. However, the Aspire One 531 is still listed on the Germany site for all to see. Looking through the specifications we are struggling to tell the difference between the two, it looks almost identical to the D250.
In fact the main differences we can find are aesthetic-related. The 531 is super-slim with a height between 19/26.9mm. It will also weigh just 1kg (2.2lbs) with the 3-cell battery. However, the D250 is certainly not chunky, with a thickness of one inch (25.4mm) and weight of 1.11 kg (2.4lbs) with the 3-cell battery. Obviously from these stats the 531 is lighter and thinner but there's not that much between them. The 531 will only come in a choice of three colours (Diamond black, Sapphire blue and Ruby red) unlike the four that come with the D250 (it gets Seashell White too).
The 531 has marginally worse battery life between the two, running for 3 hours on the 3-cell 2200 mAh battery, compared to 3.15 hours for the D250. Likewise, the 6-cell 5200 mAh battery is rated at 7 hours, comparing to 7.5 hours for the D250. The 6-cell 4400 mAh battery that is an option on the D250 is not present here, however I'd be very surprised if it couldn't be used on the 531.
The other Aspire One 531 specifications look identical to the Aspire One D250. The 531 has a 10.1-inch (1024 x 600) display and will be powered by either the 1.6GHz N270 or 1.66GHz N280 Atom CPUs. It looks like both of these will be paired with the ageing 945GSE chipset (there's no mention of the more powerful GN40 for the N280). It will come with 1GB RAM (2GB supported) and a 160GB hard-disk drive. The keyboard will be 89-percent the size of a standard keyboard whilst its touchpad will support multi-touch. Other features include three USB ports, WiFi (b/g only), Bluetooth 2.0 and a 0.3MP webcam.
The Aspire One 531 is available for pre-order on Amazon Germany for €399 (the D250 is €20 cheaper). What I am slightly confused about is that the 531 and 731 (11.6-inch) netbooks were meant to be part of the Aspire One Pro series, however I can't find any mention of the Pro tag for the 531. The 531 picture on the Acer website is too small to really tell. Hopefully we'll have some confirmation on this soon.
Acer Aspire One 531 Technical Specifications:
Windows XP Home edition
Intel® Atom processor N270/N280 (1.60/1.68 GHz, 533/667 MHz FSB, 512 KB L2 cache)
Mobile Intel® 945GSE express chip set (DDR2 400/533/667 MHz)
Single Channel memory with one soDIMM Slot
soDIMM Slot: Support 512 MT/1 GB/2 GB soDIMMs for the entire system memory on up to 2 GB
10.1-inch display 1024 x of 600 (WSVGA) pixels dissolution, highly soluble (200-nit) Acer CrystalBrite™ LED background light TFT LCD
2.5 " 9,5 mm of 160 GB HDD
Multi-in-1 Card reader
High definition audio support
Two inserted Stereo loudspeaker
Inserted digital microphone
0.3MP webcam
WLAN: WiFi (b/g)
LAN: 10/100 Mbps nearly Ethernet
Bluetooth 2.0+EDR
Dimensions: 255 (W) x 183 (D) x 19/26.9 (H) mm
Weight: 1.00 kg for models with 3-cell battery
1.15 kg for models with 6-cell battery
Colours: Diamond black
Sapphire blue
Ruby red
Battery: 2200 mAh 3-cell battery
Up to 3.0 hours of battery running time
5200 mAh 6-cell battery
Up to 7.0 hours of battery running time
Keyboard: 89-percent size key board
Multi-Touchpad:
Circular motion scrolling
Pinch action zoom shot
PAGE flip
3x USB 2.0
1 x monitor (VGA)
1 x loudspeaker/headphone/LINE out
1 x LINE in/microphone
1 x RJ-45 Ethernet