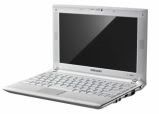 The Samsung N120 is almost unique when it comes to netbooks as it will support a full-sized 12-inch keyboard, despite only having a 10.1-inch display. To do this, sacrifices had to be made and what we end up with is a unit with quite a large bezel around the screen, Samsung has used this space to house the speakers on either side of the display (check out some larger pictures of the NC20 in this post).
The other interesting part of the netbook is that it will feature an integrated SRS 2.1 sound system featuring 2 x 1.5 Watt stereo speakers with a dedicated sub-woofer. Credit has to be given for Samsung engineers for making this happen inside such a small chassis, but I can't help thinking it will still sound 'tinny'.
The unit is expected to be released in the middle of this April and appropriately some sites in the US and UK have started to take pre-orders. In the US it is showing up at retailers for pre-order between $450 – $475 and one can choose between black & white colours. The cheapest we've seen is PC Connection which has it for $442.43. In the UK, it is showing up for pre-order at Laptops Direct for £379.97, but only comes in white.
Samsung has not officially released the spec-sheet for the N120, however all of the sites are listing a 1.6GHz N270 Atom CPU, 1GB RAM and 160GB hard-disk drive. Samsung claims that the N120 will have up to 10.5 hours of battery life with its 6-cell battery and will weigh 1.28kg (2.8lbs).