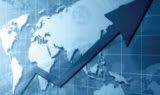 Amidst the global recession, many people are trading down on discretionary spend to save money where they can. Whether this involves people eating in McDonald's rather than the fancy restaurant in town, the trends are plain to see. One of the big beneficiaries of this trend in the technology world is the netbook, which has seen stellar growth since its introduction in 2007.
It doesn't take a genius to work out, that notebook growth has waned since its introduction. Now Displaysearch has a report out which puts some numbers on where these trends are expected to be 2009. The difference is quite stark, netbooks are expected to grow by 66-percent in 2009 compared to just 3-percent for notebooks. It is worth mentioning though that the expected 2009 netbook shipments of 27 million units still dwarf that expected for notebooks at 133 million units.
"With the lone exception of Apple, all of the top 15 PC brands have entered the mini-note market, initially as a response to competitive threats posed by Acer and Asus, but also to satisfy demand for low-priced, entry-level PCs," said John F. Jacobs, Director of Notebook Market Research.
Netbooks sales are seeing their strongest growth in China and the Pacific Rim states, with the exception of Japan, where demand is very low. North America is also expected to be a low growth area. Netbooks won't have its own way forever though as DisplaySearch expects consumers to return to more higher-priced notebooks when the economic crisis is over. Personally, I think there is an element of cannibalisation that will continue to exist even once the global recession is over. Click through for a table on growth forecast by region between 2008-2012.