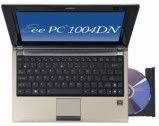 Asus is set to launch its first netbook with optical drive, the Eee PC 1004DN, over the next month. Initial comments from Asus' PR people in the UK and US suggest that the unit is unlikely to make it to western shores unfortunately. Despite this, the 1004DN remains an interesting netbook even if only to serve a sign of things to come. The manual for the 1004DN recently appeared online and browsing through it revealed some new information about the optical-drive netbook.
First of all it seems that there will be several versions of the 1004DN which will have different optical drives. Some of them will read CD/DVDs and some will also support CD/DVD burning. There will also be a range of new Eee software. This includes Data Sync which synchronises important files with other computers on a network, EzMessenger for chatting and file sharing, Font Resizer for those who want something much larger and Eee Splendid for easy adjustment of the screen's contrast, brightness, colour saturation and miscellaneous display settings.
Other additions include the Super Hydbrid Engine for adjusting the Eee PC's processing speed and
Eee Tray, which is used for adjusting screen resolution. We understand that the 1004DN will initially debut in Japan and then be released in selected regions only.
Via Blogeee.