April 8, 2009 at 10:03 pm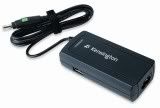 We are starting to see a handful of companies targeting the growing netbook accessory market. This time, Kensington, who specialise in computer accessories, have announced 'five essential' netbook products. These include two mice, one wired ($14.99) and one wireless ($24.99), a netbook power adaptor ($49.99), a security lock ($24.99) and a reversible sleeve ($14.99).
The power adaptor is quite interesting as it also combines a built-in USB port to also charge other devices. It doesn't look too big either and will provide power for most netbooks out there. The wireless mouse has a nano receiver which works out cheaper than the Logitech Nano series. Checking the Kensington UK site I couldn't find these products listed, but hopefully it is a matter of time. For those in the US, these products are available to pre-order at Amazon.com now.