April 16, 2009 at 2:27 pm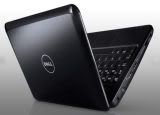 Dell has launched the 8.9-inch Vostro A90 netbook in the US. From what we can tell the Vostro A90 is nearly identical to the Mini 9 but comes in all black. The only other difference we could make out is that the A90 seems to have its speakers located just below the screen, something the Inspiron Mini 9 doesn't have.
The Vostro A90 was first launched in Japan and is targeted to business users, hence no bright colours here! The base-model comes with an 8GB SSD (a 16GB SSD option also exists) and 512MB of RAM (1GB max). The netbook uses the same 1.6GHz Atom N270 processor as the Mini 9, along with the Intel 945GSE chipset. Connectivity is provided through integrated 802.11b/g Wi-Fi, Bluetooth or Ethernet. It also comes with a 0.3MP webcam and 4-cell battery.
The base model can be purchased for $350 in the U.S. Adding the 16GB SSD and 1GB of RAM brings the price up to $424. As you would expect a premium is charged when purchasing through the business site, it seems to me that these prices are roughly $50 more expensive than the Mini 9. The A90 has not yet appear on the Dell UK site, but if it does we'll let you know.