April 17, 2009 at 2:05 pm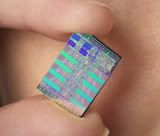 IBM along with an alliance of companies has announced a 28nm processor design for netbooks and smartphones and expects to begin 'early risk' production in 2010. The IBM Alliance consists of partners Chartered, GlobalFoundries (AMD's former chip-making unit), Infineon, Samsung and STMicroelectronics.
This news has quite a significant bearing for Intel, whose Atom processor is based on 45nm fabrication. Not only will these new chips from the IBM Alliance be smaller at 28nm but in doing so will be more energy efficient than Intel's Atom CPU.
IBM says that early results show the 28nm chip provides a 40 percent performance improvement and more than a 20 percent reduction in power in a chip half the size of one produced with 45nm process technology. That means that chips based on the new 28nm process technology will offer low standby power, faster processing speed and longer battery life.
In anticipation of the news, Intel recently said that it would accelerate the release of its 32nm "Westmere" to sometime later this year. By coming to the market both earlier than Intel and backed by some of the leading semiconductor companies in the world, the Alliance have a real chance of dethroning the Intel Atom as the de facto standard processor for netbooks over time. If nothing else, it will provide Atom with some much needed competition.