April 17, 2009 at 3:25 pm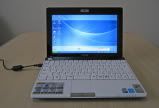 Following on from the recent unboxing, Portable Monkey has put up a MSI Wind U123 review. Overall impressions on the 10-inch netbook were positive including very good keyboard and screen. However, they felt it was let down by a number of smaller factors including tinny sound from the speakers, no scrolling capability on the touchpad and low microphone volume.
One of the big disappointments, though, was that the RAM/HDD cannot be upgraded without voiding the warranty. Apparently whilst the bottom part of the case can be easily removed, MSI have placed a "void if tampered with" sticker to make sure you don't upgrade the parts yourself.
The white MSI U123 comes with a 10-inch (1024 x 600) display powered by a 1.66Ghz N280 Intel Atom CPU and 945GSE chipset. Graphics are served by Intel's GMA950. Other features include Wi-Fi (b/g/n), Bluetooth 2.0, 1.3MP webcam and a 5-in-1 card reader (the US SKU comes with a 4-in 1 reader). It also comes with a 6-cell battery (5200 mAh) as standard. The unit weighs less than 1.4kg (2.98lbs) including the 6-cell battery. Check out the key points of the review after the break.
Key points from the MSI Wind U123 review:
Good build quality, with hardly any keyboard flex. Hinges also don't wobble like previous Wind netbooks.
Touchpad: Can easily glide fingers over it. Felt a bit small horizontally. However no hardware support for scrolling is a big letdown.
Battery lasted just under 5 hours using battery Eater Classic test. Settings: Wi-Fi, Webcam, BT, Sound OFF, ECO Mode ON, No mouse, Lowest Brightness.
Display is excellent with vivid enough colours.
Weight distribution of netbook is at rear which means it can fall off your lap if screen tilted back.
Power button sits above keyboard with bright blue light, can be distracting.
Sound volume is good but tinny.
Recording video from the webcam worked well. However, microphone had issues as could hardly hear own voice.
Pleased with noise levels. Stayed cool all over.