April 21, 2009 at 11:26 am
Almost from nowhere, the world's first Google Android netbook has appeared from a Chinese manufacturer, Guangzhou Skytone Transmission Technologies, more renown for producing low cost netbooks targeted to kids. On Skytone's website, you can clearly see the Alpha 680 which is meant to be a refresh of the Linux-based Alpha 600.
The Alpha 680 has a 7-inch screen with 800 x 480 resolution and is powered by an ARM 11 533MHz processor. Given its believed trade price point at $100, the rest of the specifications are very weak. The Alpha 680 comes with only 128MB RAM and 1GB of flash storage as standard. An optional upgrade to 256MB RAM and 4GB flash storage is possible. For those that want more, a SDHC slot is also supported.
Judging by the pictures, it looks like this will be a convertible tablet. Indeed, the specifications list a 'Capacitive TouchPad', but I wonder whether something was lost in the translation and in fact the display supports multi-touch? Despite the small chassis, they have managed to fit an 80 key keyboard. Other features include two USB ports, Wi-Fi and optional 3G support.
Showing that this device is probably targeted to kids, the bezel actually supports an in-built game pad. It looks like a d-pad is placed to the left of the screen whilst game buttons sit on the right. The website suggests that the Skytone Alpha 680 will come in Pink, Yellow, Red, Black and White. Given the cost, it's not hard to understand why the pictures don't inspire confidence in the looks and the build quality does look low end.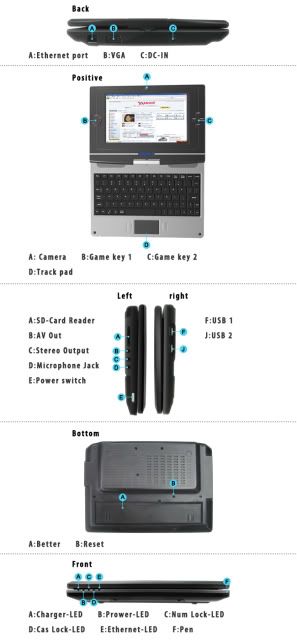 Whilst this netbook is not really what many had imagined the first Google Android netbook would look like, I imagine over the second half of the year these announcements will intensify. In related news, i-Buddie has shown off its Android netbook prototype (video below). However, whilst we expect to see most Android netbooks running of an ARM processor, this particular prototype was x86 based, the netbook it ran on was your typical 1.6GHz N270 Atom CPU, Intel 945GSE chipset etc.
Skytone Alpha 680 Technical Specifications:
Model Name Alpha 680
Operating System google android
Display 7" TFT LCD true color
LCD resolution 800 x 480( WVGA)
Internet Connection (Optional) ADSL, WiFi,( GPRS, CDMA,EDGE,WCDMA)
Memory 128MB DDR2 (up to 256MB Optional)
Solid-State Disk 1 GB Nand Flash Memory (up to 4GB Optional)
CPU ARM11 533 MHz 32bit
LAN / Connection 10/100 MB Ethernet ; RJ-45
Wireless Built-in WiFi
Media Support MPEG1/2/4,H.263,H.264,WMV9
USB Output USB 2.0 x 2
Media Storage SD/MMC card slot ( support SDHC)
Input Device 80 Key standard keyboard; Capacitive TouchPad