April 23, 2009 at 8:14 pm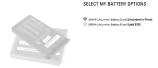 Dell has now made the 6-cell battery option available for the Inspiron Mini 10 netbook. On checking various Dell country sites, it seems that the option is only available in the US right now where it will cost an additional $30 over the 3-cell version. Dell hasn't given any information as to how much longer this will make your Mini 10 last, however we would expect some real world tests from owners over the coming weeks.
A number of updates were due on April 17 according to a leaked internal roadmap, however this is the first to appear so far. Options that were meant to appear, apart from the 6-cell battery, were a 250GB hard-drive, a TV Tuner, Ubuntu Linux and, potentially, even a 1.86GHz Atom CPU. The roadmap says that a 2GB RAM option will be available on 20th May.
Via Portable Monkey.