April 24, 2009 at 11:05 pm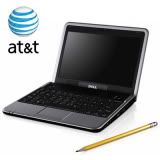 AT&T is putting its weight behind netbooks using ARM processors, calling them the "next big step," according to EE Times. Glenn Lurie, president of emerging devices for AT&T's wireless group, said that he expects AT&T to offer ARM/Linux netbooks in addition to present-day x86 devices. Lurie claims that a wide variety of netbooks are on the way.
"There are a lot of people who will dive in and build netbooks, including folks like cellular or wireless OEMs who never built a computer before. There will be a lot of innovation around what a netbook looks like and what the use cases are, and we will see this evolve very quickly," he added.
AT&T has signalled its support for any netbook CPU that will come to the wireless broadband party. At the beginning of this month, the carrier rolled out four subsidized netbooks – Acer's Aspire One, Dell's Mini 9 and 12 and LG's X110. Currently available only to shoppers in Atlanta and Philadelphia, the netbooks will be available nationwide later this year, the carrier says.