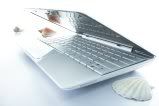 Official UK launch details regarding the Asus Eee PC 1008HA 'Seashell' netbook has finally been revealed. The Eee PC Seashell will be available in stores from 15th May 2009 with a suggested retail price of £379 including VAT.
To celebrate the launch, Asus will also be giving away one Eee PC Seashell each week during its launch period. Details are set to appear at this link, although there's not much there right now apart from "Coming soon – Eee PC Seashell UK Grand Launch. Join us for the launch and the chance to win the latest ASUS Eee PC Seashell! Stay tuned."
This price is around £20 higher than was first suggested back in March. Looking around Amazon
has it on pre-order for £379.50 but it can be had for £369.97 from Laptops Direct (who this morning had it on pre-order for £349.97).
The 10-inch (1024 x 600) Seashell is set to become one of the most desirable netbooks on its release with its 1-inch thickness and 1.1kg weight. The specs aren't too shabby either, with a 1.66GHz N280 CPU, 1GB RAM and 160GB HDD and wireless draft n. Asus claims that its in-built battery should last for around 6 hours. Check out the official press shots after the break.