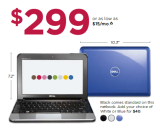 A number of upgrades to Dells Mini 10 netbook have been on the agenda since an internal roadmap was leaked last month. We have already seen Dell add options for a higher resolution display and 6-cell battery and it now looks like it will be releasing a refresh, dubbed the Mini 10v.
The Dell Mini 10v will sport the 1.6GHz N270 Atom CPU as opposed to the power-efficient Z series Atom CPUs found in current Mini 10 netbooks. This should result in similar performance but at a cheaper price. In fact it looks like Dell will be marketing the Mini 10v at $299, which is $100 cheaper than the current base configuration. Dell anticipates this model will start shipping in mid-May in the US.
Engadget is also reporting that Dell has added SSD options for the Mini 10. It seems that this option is only appearing for the new Dell Mini 10 Linux version, which now comes with Ubuntu 8.0.4, and not the Windows version for now. The 32GB SSD upgrade will set you back $75 whilst a 64GB SSD will cost $125. The Ubuntu version will start shipping from 28 May with the base package costing $369. The screen grabs are attached after the break.
Dell Mini 10v
Dell Linux Mini 10 options available now