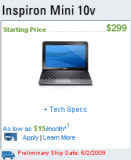 The Dell Mini 10v refresh is now available to order in the US with prices starting at a very reasonable $299. Dell looks likely to set the cat amongst the pigeons with this particular model and that bargain headline price. Obviously as with all Dell products, once you've added the cost of a 6-cell battery, Bluetooth and a new colour the price creeps up. However, these are not necessary extras and there is no doubt that this price point will be welcome by consumers.
The reason for the $100 saving over the current Mini 10 is that the 10v will sport the 1.6GHz N270 Atom CPU as opposed to the power-efficient Z series Atom CPUs found in current Mini 10 netbooks. This should result in similar performance but at a cheaper price. It's also worth noting that the 10v uses the GMA 950 chipset which is less powerful than the GMA 500 chipset found in the current Mini 10, which helps with HD playback.
The Dell Mini 10v options include either a 160GB HDD or 16GB SSD, Draft N Wi-Fi, Bluetooth 2.1 and a 56Whr 6-cell battery. There doesn't seem to be an option right now for the HD (1366 x 768) display. The preliminary ship date is 6th June.
Via Engadget.