Asus is a pretty bad offender when it comes to model names. When looking at their line up of 10-inch Eee PCs it's a nightmare trying to work out and remember which features they all have with their slightly changed names. But I think Acer is just as bad, we already have the Aspire One 531, Aspire One 751 and Aspire One Pro 531 and now, according to macles, the Aspire One 571 will shortly be launched. Given that these are the same three digits used in the 11.6-inch 751 will only confuse the matter further.
Anyway, with that rant over, the Aspire One 571 looks like a very intriguing netbook. In terms of the chassis and internal specs it is almost identical to the Aspire One D250. However, there are some significant differences in the display used. The 571 will have a higher-resolution (1280 x 720 pixels) 10.1-inch display with 16:9 aspect ratio.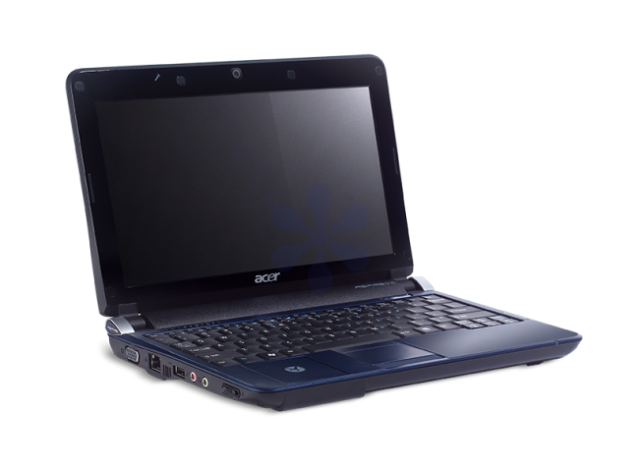 Whilst having a HD screen is all good and well, if you don't have the power under the hood it's of no use to anyone. This is where the Quartics QV1721 Multimedia Coprocessor steps in, it can perform full 1080p video encoding and decoding. Combining this with a 1.66GHz N280 Atom CPU should enable the Aspire One 571 to bring about the best examples of HD playback yet seen in a netbook.
However, it doesn't stop there. The 571 will also support an optical disc drive for Vmedia discs. If you haven't heard of Vmedia, don't worry the name is new to me too. They are basically tiny discs that are based on blue laser technology (similar to Blu-ray). The come protected in a tiny plastic case, not dissimilar to Sony's MiniDisc format, and have a diameter of just 3.2cm. The loading mechanism can be seen to the left of the touchpad in the picture below with the Vmedia logo on it.
This seems like an unusual decision to me, especially since Vmedia do not provide writeable discs. That means you have to buy Vmedia movies, music or games. But since I've not even heard of these new discs I do wonder how successful it will be. Apparently writeable discs are planned for the future, but there's no indication of when this may be.