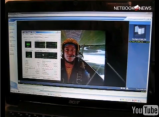 One of the complaints from the recent Acer Aspire One 751 review, was that the 1.3GHz Z520 Atom processor was just not powerful enough for this 11.6-inch slender netbook. Now Riccardo from NetbookNews.it has come out with the benchmarks to highlight the same point. He says that you shouldn't expect anything more from the netbook but basic web browsing and use of word documents and spreadsheets.
YouTube HQ (not HD) videos played okay, despite a CPU load of near 100 percent. However, HD Vimeo videos were unwatchable. So poor were the results that he ended up re-installing the operating system. He had thought that there was something wrong with the configuration. Whilst the HDD and RAM perform satisfactorily, he concludes that the poor performance is down to the Z520 CPU. A performance benchmark comparison chart against other netbooks is attached after the break.
It also seems that Acer is shipping a 4400mAh rated 6-cell battery, rather than the 5200mAh battery suggested by Acer's website. The Aspire One 751 has a suggested retail price of £379.99 and is expected to be available from next week, along with the Aspire One D250 which will retail for £329.99. A 3G version of the D250 will set you back a pricey £479.99.