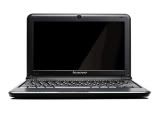 High resolution screens are starting to appear in more and more netbooks. Whilst you won't find this a standard feature in a 10-inch netbook, manufacturers such as Dell and HP offer this as an option in their Mini 10 and Mini 2140 netbooks respectively. Lenovo will also be doing the same with their Ideapad S10-2 that was announced last week.
Whilst the standard display has a screen resolution of 1024 x 600 pixels, Lenovo plans an optional upgrade to a high-def resolution of 1280 x 720 pixels. This resolution is slightly different to the 1366 x 768 resolution offered by Dell and HP. Some users have suggested that the higher-res displays found in the Dell Mini 10 and HP Mini 2140 may be a bit too small to read text easily. Lenovo's choice of resolution may make it a bit easier in this regard, given its lower resolution.
Other options planned for the German market include an optional 32GB SSD drive and possibly, the faster 1.66GHz N280 CPU. It is unknown whether these options are planned for other markets.
Via NetbookNews.de.