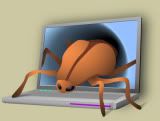 Kaspersky Labs, who is known for its anti-virus software, has reported finding malware on a new $499 Windows XP netbook. A senior researcher with the firm scanned the machine and found three instances of malware on it. The researcher said that the malware appeared to have been accidentally loaded onto the netbook at the factory.
The malware included a variant of the AutoRun worm that spreads from PC to PC through USB thumb drives. The netbook was still in its original packaging when the researchers bought it.
"This was done at the factory," said Roel Schouwenberg, a senior antivirus researcher with Kaspersky. "It was completely brand new, still in its packaging." Kaspersky is now warning users to scan your brand new netbooks for malware before you connect to the internet.
"That's the best course of action, even though it sounds like a lot of work," said Schouwenberg. He recommends that you should install security software, update it by retrieving the latest definition file on another computer and transferring that update to the new system, then running a full antivirus scan.
Via ComputerWorld.
Thanks Chase!