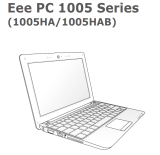 News on Asus' next netbook in its Seashell line, the Eee PC 1005HA, is coming through thick and fast. Only yesterday, we had the full official product page up and now the manual is available for public consumption. You can have a look at the schematics along with exactly what ports you'll find on the netbook.
The manual is headlined Eee PC 1005HA / 1005HAB. We first heard of the 1005HAB when rumours of this device first circulated. However, up until now we don't have any confirmation as to how the 1005HAB will differ from the 1005HA. We already know of the 1005HA-H and 1005HA-M models that were detailed by Asus France last week.
To be honest there is not too much that we didn't know. However, it's interesting to see that whilst an access panel has been provided for the memory slot, there is no easy access to the HDD. Also, I noticed that the array microphone has been moved adjacent to the top of the LDC display (next to the webcam). This may improve the sound quality when video conferencing. Other popular Eee PC lines, like the 1000HE, have this located on the bottom of the display.
As we saw yesterday it will come with the Eee Docking Software. This includes Eee Arena, which gives you access to Radio, Live TV and Games. Eee Sharing allows you to synchronize the data on your Eee PC with another PC at home. Eee Xperience gives you access to SRS software and the DVD player whilst Eee Tools has an update service. You can download the manual from here.
Via Liliputing.