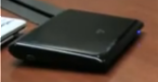 Sascha from NetbookNews has released a hands-on video of the Asus Eee PC 1008HA. The video shows us the ports on each side and gives us a close look at the bottom which hides a mini VGA connector and integrated 3-cell battery. He compares the 1008HA Seashell to the Samsung NC10 and it really shows how skinny the Seashell is. Interestingly, the 1008HA in the video was running the Xandros Easy Mode OS.
If you forward the video to 3 minutes and 46 seconds, you can spot the upcoming Eee PC 1005HA in black. You can instantly tell how much thicker it is compared to the 1008HA and it looks a bit thicker than the Samsung NC10 too.
Sascha is currently in Taipei visiting a number of manufacturers and no doubt will be attending Computex on June 2nd. There are already rumours of an Eee PC powered by the Qualcomm Snapdragon chip. He says that this will be demonstrated at Computex and have Bluetooth, 3G and GPS all in one chip. Until then, check out the hands on 1008HA Seashell video after the jump.