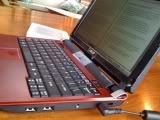 Mary Lou Jepsen recently demonstrated Pixel Qi's much anticipated 3Qi Hybrid display this week. The 3-in-1 display can not only switch between an efficient black-and-white mode and a high resolution colour screen, but also to an e-paper mode suitable for reading in direct sunlight. Time managed to get a closer look at some modded Acer Aspire One netbooks with the Pixel Qi display.
The pictures show a toggle switch on the side of the netbook that allows you to switch between reflective and emissive display. The way in which Pixel Qi's technology differs from E-ink is that the 3Qi screen allows you to use the netbook as traditional LCD which means full colour and video (at 60fps).
Battery life will be conserved when using the e-paper mode, as the only energy consumption occurs when the page changes. On these Acer prototypes, the 3Qi display managed to give an extra hour or so of battery life. If using it as an e-reader, then the battery should last around 40 hours.
The screens are relatively cheap to produce, coming in at under $200 according to Mary Lou. That's certainly not cheap, but I imagine prices would come down under mass production. She said that if a manufacturer bought the technology today, it could be commercially ready by Q1 2010. The main work that would need to be done is to build a proper motherboard which is optimised for use as both a traditional LCD display and an e-reader. If done properly, convertible netbooks which allow the screen to be folded back, could even spell the end of e-readers such as the Amazon Kindle.
Via Gizmodo.