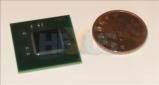 Intel's Sean Maloney, Executive Vice President, kicked off the company's keynote to talk about a number of developments as well as giving the first public demo of Pineview, Intel's next-generation Atom processor for netbooks.
Pine Trail is a two-chip platform. The Pineview processor features a CPU, GPU and memory controller on a single die. Combining this with Intel's Tiger Pint I/O is what makes up the Pine Trail platform.
This two-chip platform will replace the three-chip design seen in the current Atom platform, with graphics and memory controllers moving onto the processor. Maloney claimed that this will lead to better performance, lower thermals and lower average power draw for longer battery life. The Pine Trail platform will also have an increased graphics core frequency, which should improve its video performance.
Whilst clock speeds remain unknown right now, Hexus claims that the first Pineview chip will feature a dual-core processor. Intel also believes that it will be able to run in fanless systems given the low power draw. Pineview is expected to ship in the last quarter of 2009.