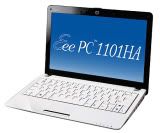 Asus has officially announced the latest member to its Seashell line of netbooks, the 11.6-inch Eee PC 1101HA. The netbook was spotted in the wild earlier this week at Computex, along with near enough full specifications.
The press release is pretty sparse on detail, only confirming it will have a HD (1366 x 768) resolution LED backlit display and battery life of 11 hours. It also confirms a 160GB HDD, wireless draft-N, Bluetooth, a 1.3MP webcam, digital array microphone and multi-touch touchpad. Hopefully some more detailed specifications, along with pricing and availability, will be announced shortly.
Laptop Mag managed to get hands-on with the 1101HA and found that it came with a spacious keyboard, a trackpad similar to that seen in the 1008HA, but only a small right shift key which is disappointing. The unit played with was running on a 1.33GHz Z520 Atom CPU.
This is the same processor found in the Acer Aspire One 751 and has been criticised for its poor performance, especially with HD video content. I would think that the 1.6GHz Z530 Atom CPU would be a must, otherwise what's the point in having that high-res screen? There's a video on the site if you went to check-out a hands on.
Asus is also planning to a model that will come with 3G called the Eee PC 1101HGO. To compensate for the additional power drain from 3G, it will be fitted with a slightly larger battery (that protrudes out) than the one found in the 1101HA. Other specifications will remain the same.