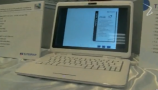 As expected, ECS has announced three new netbooks at Computex this week. This includes an 11.6-inch model (T20IL) and two 10-inch models (T10IL & TV10IL). While I could not find a press release on the ECS website, NetbookNews.de was on hand to give us the lowdown on each of these new netbooks.
The ECS T20IL comes with an 11.6-inch (1366 x 768) display powered by Intel's Celeron 723 ULV platform and GS40 Intel chipset. It is very thin at just 25mm and weighs 1.4kg with the 4-cell battery (a 6-cell option will also be available). It will run on Vista Home Premium.
The ECS T10IL is similarly thin and comes with a very good keyboard. It weighs less than 1kg and uses 1.8-inch storage, Bluetooth, Webcam (1.3/2.0MP) and an HSUPA modem. The cheaper ECS V10IL is powered by a 1.6GHz N270 Atom CPU and 945GSE chipset. It has a 2.5-inch 160GB HDD, a 1.3MP webcam, an HSUPA modem and optional Bluetooth. Check out three videos of these ECS netbooks after the jump.