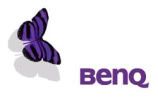 BenQ has confirmed that it will launch a smartphone and netbook running the Google Android operating system in 2010, according to Peter Chen, General Manager of BenQ's Technology Product Centre.
This move would follow a number of companies pushing Linux-based operating systems, including Acer who plans to launch their own Android netbook in the next quarter (albeit with a dual-boot Windows option). BenQ already sells netbooks under its Joybook Lite brand running Windows XP. It also recently revealed the 11.6-inch Joybook Lite U121 Eco.
There are no details about availability, or pricing right now. This is not surprising given that its overall makeup is still on the drawing board. With a vague '2010' release date, I imagine that by the time it is released, there will already be a number of manufacturers offering netbooks with Android and other OSes like Moblin or Jolicloud. It will be interesting to see what new stuff BenQ can bring to the table.
Via Digitimes.