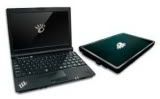 Manli Technology, which normally specialises in the manufacture of graphics cards and motherboards, unveiled a new series of netbooks at Computex called the iii series, (pronounced 'I'). The series has been divided into five different models named the M1, M3, M5, M7 and, you guessed it, the M9. These models are available in a number of different colours and each come with their own design.
These 10.2-inch models come with 1024 x 600 resolution and are powered by a 1.6GHz N270 Atom CPU. They weigh around 1kg and, somewhat uniquely, come with a fingerprint scanner. Other specs include a 3-in-1 card reader, Wi-FI (b/g only), a 160GB HDD, a 1.3MP webcam as well as 3G capability.
NetbookNews went hands-on with the Manli M3, which also had an Expresscard slot in addition to the above. The touchpad seemed quite small for a 10-inch netbook, but it was nice to see a matte display being used. It will also come with an optional TV-Tuner and a number of unique case designs. It will be priced somewhere around the $300 mark on release, although availability is unknown right now. Check out the video after the jump.