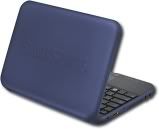 Not too far behind the European launch, both the funky Samsung N310 and long-lasting MSI Wind U115 Hybrid netbooks are now available to order in the US. The Samsung N310, complete with bold embossed logo and an array of snazzy colours, is now on order from Best Buy where it will set you back $479.99.
Whilst the exterior of the 10-inch Samsung N310 is certainly unique, it also comes with a flush glossy display and chiclet keyboard. The innards aren't anything to get too excited about though, powered by a 1.6GHz N270 Atom CPU, 1GB RAM and a 160GB HDD. It seems as if our US cousins will get a 6-cell battery with a promised 11 hour battery life, compared to the 4-cell battery seen in the European SKUs. The Samsung N310 is already available in the UK, where it costs £376.17.
There is a rumour that Microsoft is looking to ban hybrid storage netbooks that run XP Home, but that doesn't look like it's stopping MSI. It has placed its Wind U115 Hybrid netbook on sale on its official website for $499. The high cost is mainly due to dual internal storage of both a SSD and HDD. This combined with a power efficient Z series Atom CPU means some of the best battery times seen in a netbook. The Wind U115 is now available in the UK for £450.
Via Liliputing and Portable Monkey.